Announcing our TBA2021 Keynote Speaker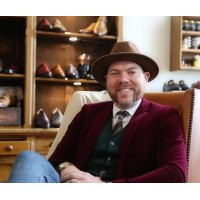 Enterprise House, the organisers of the Teesdale Business Awards, are excited to announce that the keynote speaker for the awards ceremony is Simon Bourne, founder of the Hand Dyed Shoe Co.
From small beginnings in a spare bedroom to an award winning, globally recognised brand, Simon Bourne's personal journey as the founder of a fabulously bespoke shoe business has certainly been unique. This dynamic and innovative business leader has slugged his way through a global pandemic and faced the dreaded Dragons' Den quintet on prime-time TV. Simon is a colourful character who prides himself on 'being himself, which is also the perfect metaphor for his unique product.
The Teesdale Business Awards ceremony is due to be held on the evening of Wednesday 9th February 2022, at The Witham in Barnard Castle.
The Teesdale Business Awards are aimed at giving recognition to Teesdale businesses, social enterprises, community groups and individuals who have been successful in their own field of activity. The category judges are currently deliberating the nominations for the twelve award categories. Their short list of business organisations and individuals will be revealed in December, followed by the announcement of the winners at the awards ceremony in February.
Emma King, TBA2021 Coordinator said, "The last 18 months have been a challenging time for everyone, requiring great fortitude, resilience and adaptability but the Teesdale business community has rallied admirably, as evidenced by the calibre of the nominations this year. The judges will have a particularly difficult task ahead of them to produce their shortlists and winners this year."
Early bird tickets, priced at £10 (normal price £12), for the awards ceremony are available to purchase online from the website www.teesdalebusinessawards.co.uk or in person/by telephone from The Witham box office (01833 631107).
Any questions, contact Enterprise House by telephone on 01833 696750 or email emma@e-house.co.uk.