Nominations Close Soon for the TBA2021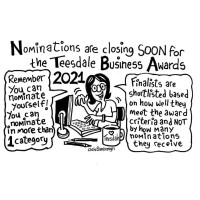 If you are thinking of making a nomination in the Teesdale Business Awards, you'd better get your skates on as nominations close on Monday 08 November 2021 at 13:30hrs.
The Teesdale Business Awards focuses on business in Teesdale, from new and emerging businesses, to established businesses, businesses which are expanding, those trading beyond the Teesdale area, and the apprentices and entrepreneurs who are destined for great things in the future. There is also a new category this year recognising those that have gone above and beyond during the Covid-19 pandemic to support other Teesdale businesses and the wider Teesdale community.


For those feeling shy about making a nomination, nominator details remain confidential. Neither the nominee nor the judges find out who has made the nomination unless the nominator chooses to disclose it.
The Teesdale Business Awards is not a voting system. Winners are not determined by the number of nominations they receive but by how closely they meet the award criteria. Therefore, one nomination is all it takes to win, if you are the best in your award category.
Teesdale businesses are also strongly encouraged to nominate themselves for an award as they are best placed to describe their successes and achievements.
More information about the awards can be found on the Teesdale Business Awards website www.teesdalebusinessawards.co.uk, its Facebook page - www.facebook.com/teesdalebusinessawards or its Instagram account @enterprisehousetdc.